Color Accuracy and the Digital Camera
08/01/17 18:31
Color Accuracy and the Digital Camera
One of the drawbacks to using a traditional digital camera- one that takes the picture all at once- is that data for each color (Red Green and Blue) isn't recorded at each location on the image!
The part that actually takes the picture is called a sensor array. The 2 most common are called Complementary Metal–Oxide–Semiconductor and Charged-Coupled Device. Well, actually few people actually call them that, they are referred to as CMOS and CCD devices. Each has a fixed array of tiny light sensors that can turn light that falls on them into a very tiny amount of electricity. But remember each of these little micro sensors just sense light they cant see color. In order to do that, they need to have a tiny filter placed over them. Those filters are mated to a sensor and permanently attached. They are arranged in what is known as a …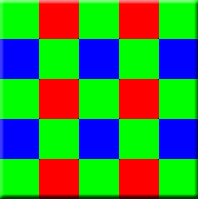 Bayer Filter Pattern
Both the CMOS and the CCD chips are basically 2 dimensional and fixed so each pixel records either Red, Green, or Blue data for that position in the image. The Data is then interpolated using a mathematical technique called demosaicing. As you might imagine, this works pretty well, but anytime interpolation takes place, information is being created by assumption. It is, by it's nature and necessity, not as accurate as it could be.